Can we please just agree that this is a bloody awesome feature
- /u/legbuster
This bookmarklet allows you to preview opponents on different gameweeks on fantasy.premierleague.com. It shows some additional information on FPL team/transfer page and has other features, including:

Screenshot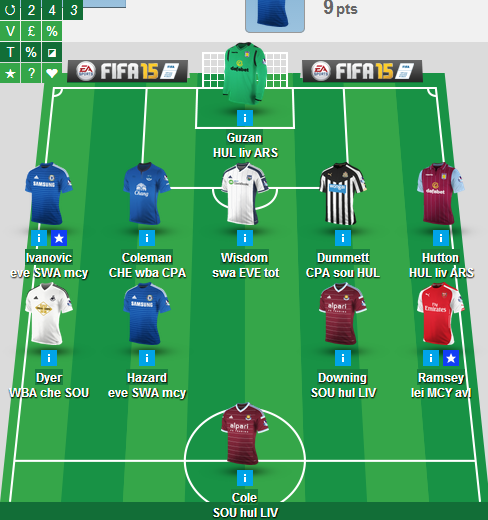 YouTube Video Demo
Motivation
I have been playing FPL since 2007/08 (link). When picking team or transferring, there are a handful of info that we need to check frequently. I created this bookmarklet to help visualizing those information. It adds some much needed interactivity to the FPL website.
This is a hobby project of mine, you can use this for free. The code is also open-sourced for anyone interested. I made this tool because I follow football and enjoy playing FPL. Hope you'll enjoy using this as well.
How To Setup
Method #1 (easy)
Drag this button to your browser bookmark toolbar.
Method #2 (difficult)
Create a new bookmark on your browser.
Name of the bookmark: anything
URL of the bookmark:
Save the boomark (preferably on browser bookmark bar)
Method #3 (mobile)
How to setup FPLAnalyzer using Chrome sync
How To Use
Go to your 'Pick Team' or Transfer page on FPL site (also works on points, any other player, dreame team etc. pages)
Click on the bookmark twice (first time click loads script on background, you might need to allow a few seconds for that)
You will see a few links appear on the top-left of your team as in the screenshot above. Feel free to explore now.
You can use it for strategizing in different ways. On Pick Team page, load the bookmark, then navigate to different gameweeks and to see if your current team is any good for the forseeable future. On Transfer page, load the bookmark, then shuffle your team and navigate to another GW plan your strategy. In addition, you can keep an eye on %NTI to track price changes.
Updates & New Features
If you are using the above code as instructed, then whenever I update the script, new features should be readily available to you. If it's not, then you might need to clear your browser cache.
You can check the commit log on GitHub to see when and what new features are added.
Feedback
If it doesn't work, you can open issues on github or contact me at @fplanalyzer.
Developers
View the Project on GitHub esalman/fplanalyzer
Disclaimer
NTI data are collected from these two super-mega-awesome sources- FISO Crack The Code and TotalFPL Price Changes. However I do not store or use their data in any way. My script (located on Heroku) scrapes their data and then displays on your's browser. I did ask on FISO forums if I could store their data because that would make my work easier but didn't receive the permission. But I feel as long as I am not using/storing their data for any commercial purpose, usage of my bookmarklet should be fine and legit.
I also assure that when you use this bookmarklet, your team data is not collected.